HCA is supposed to inhibit the conversion of carbohydrates to fat and is thought to suppress appetite as well.
Pros:
Easy
Just take a pill or capsule
Safe
Lose extra pounds
Lose weight faster
Cons:
Reported HCA percentages in pills deviate significantly from actual percentage. The worst offender was Trusted Nutrients Garcinia Cambogia, 99.5% below its label claim.
There is little scientific evidence supporting the efficacy of Garcinia extract for weight loss/appetite suppression.
Benefits of Garcinia Cambogia supplementation as a weight loss aid or appetite suppressant have no proof.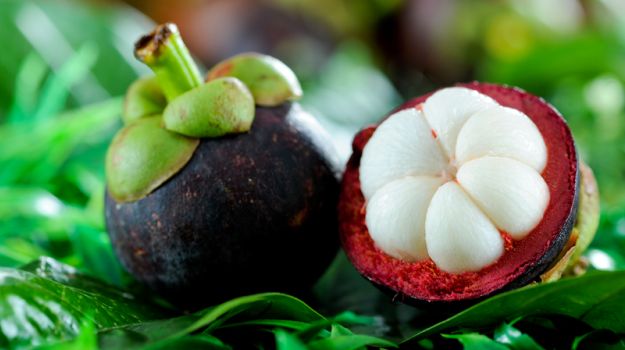 Mangosteen
Side Effects:
Long term use of HCA has caused on case of severe acidosis
Long term use of HCA is thought to destroy the testicles
Risk of side-effects is low for up to 8 weeks with small dosages.
Some reports of nausea, digestive tract discomfort, and headaches.
HCA side effects include headaches, dizziness and dry mouth
A meta-analysis in 2010 revealed that gastrointestinal negative effects were twice as likely for users of hydroxycitric acid.
HCA is not good in patients with Colitis or Inflammatory Bowel Disease (see your health care professional)
Does it work? NO!
Clinical studies indicate that HCA do not contribute to weight loss or reduce fat mass. Extracts have been used as appetite suppressants with zero scientific or clinical proof that they are effective.
Conclusion:


There have been very few studies made regarding the benefits of Garcinia Cambogia, and all these studies have been with very small groups and for a short time span with the max at 12 weeks. If this diet aid really worked, there would have been clinical proof long ago.
The best FAT BURNER is still a good exercise program. The best FAT BLOCKER is a healthy diet. Until proven otherwise, which I doubt will ever happen, Garcinia Cambogia should be avoided. I give it two thumbs down!
Some day there may be a pill that will help us to lose weight, but that pill has not yet arrived.
Thank you for reading, my friends. I wish you much success on your weight loss journey.
Kindest regards,
George Pierce
Advertisement: