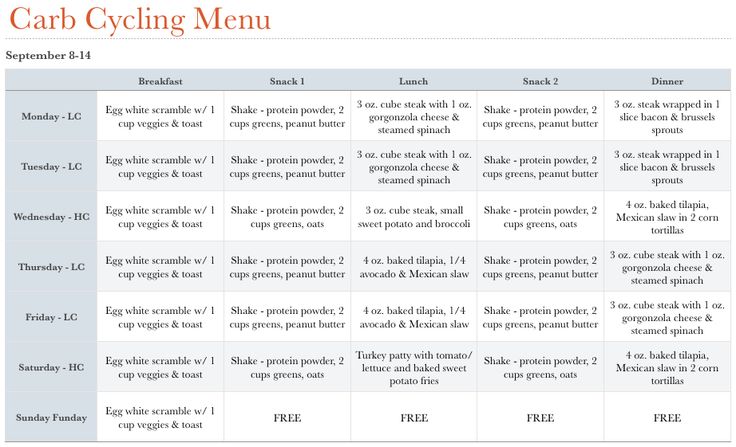 Typical low-carb day:
7 a.m: 2 eggs scrambled with 1/2 bell pepper
10 a.m: protein shake with berries
1 p.m: 4 ounce grilled chicken with 1 cup asparagus
4 p.m: 1/3 cup oatmeal with almonds (about 10)
7 p.m: 4 ounce steak with 2 cups steamed broccoli and cauliflower
Typical high-carb day:
7 a.m: 1/2 cup of oatmeal with berries or nuts
10 a.m: whole apple with 2 tbsp. of peanut butter
1 p.m: half of a turkey sandwich using whole wheat bread
4 p.m: 1 cup of three-bean salad with a cup of quinoa
7 p.m: 4 ounce grilled chicken with a cup of whole-wheat pasta and pesto
Five Quick and Easy Low Carb Meals to get you started:


Scrambled Eggs and Vegetables.

Ingredients:
Eggs, Spinach, Frozen Vegetable Mix (carrots, cauliflower, broccoli, green beans). Coconut oil.
Directions
Add coconut oil to frying pan and turn up the heat, then add mixed vegetables. Add eggs (2 to 4). Add salt, pepper, and spinach. Stir until ready.
Eggs and Bacon


Ingredients: Bacon, Eggs
Directions: Fry bacon until cooked, removed bacon or move to the side, and cook eggs (2-4) in bacon grease.







Bunless Cheese Burger



Ingredients: Burgers, Cheddar Cheese, Cream Cheese, Salsa, Spinach.
Directions: Cook burger in butter until almost ready, add cheese and cream cheese on top and allow to begin to melt, serve on a bed of spinach.






Fried Chicken Breast



Ingredients: Chicken Breast, lettuce or spinach, Salt, Pepper, Garlic Powder, Curry, Butter.
Directions: Cut up chicken breast into small pieces and fry in butter. Add salt, pepper, garlic powder, and curry to taste, and continue to stir fry until chicken is brown. Serve on a bed of lettuce or spinach.






Poached Sole and Capers



Ingredient: 3/4 cup of dry white wine, a pound of sole fillets, 2 tbsp olive oil, 2 tbsp capers, 2 tbsp chopped chives. 1/4 tsp salt, 1/8 tsp pepper.
Directions: Heat wine in a large skillet over medium heat, add sole and drizzle with olive oil and add salt and pepper, then sprinkle capers over top and cover. Cook until ready, about 4-5 minutes, then sprinkle with chives Spoon wine and caper sauce over sole and serve. Makes several servings.

To learn more about Carb Cycling, please visit my Carb Cycling Diet Review.

Thanks for reading, my friend, I wish you much success on your weight loss journey.

Kindest Regards,
George Pierce
Win At Losing Weight Founder

Advertisement:

Transformed Recipes!
116 mouth watering low carb recipes to help you burn fat.